The Drink Fairy takes on the Kruto Mule: no fairy dust required.
Sometimes, just sometimes, we stumble upon greatness, and that was certainly the case when we were introduced to Tiffany Avila. Known by many as The Drink Fairy, she's making waves in many social circles in Dallas, TX as the go-to girl for all things liquor.
Her mobile mixing station is about as cute as they come, and she's on a mission to create smiles everywhere she goes with the shake – and stir of a cocktail. Check her out on Facebook and Instagram, and in the meantime, make yourself a Kruto Mule…fairy style.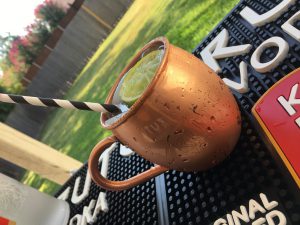 2 oz. Kruto Original Vodka
3 oz. Ginger Beer
1/2 lime
Obviously, you will start with a Kruto signature copper mug, and pack it full of ice. Squeeze the lime juice (just as much as you can get ) over the ice and let drizzle. Add 2 ounces of Kruto Original (save the Flawless for the shots later on). Lastly, finish off with some local ginger beer.